Autologous Tenocyte Implantation (Ortho-ATI ) is an exciting development in the treatment of tendon tears and is a major step in tissue engineering therapeutic options currently available for patients.
Tendinosis, commonly (though incorrectly) referred to as 'tendinitis', occurs due to a decrease in the number of tendon cells (tenocytes). As the local tenocyte population declines, the tendon is unable to withstand normal day to day activities and has limited ability to repair, resulting in premature 'wear and tear' (degeneration). Unfortunately, the body's reaction is unable to reverse this process. ATI is however able to artificially restore the tenocyte population, with the ultimate aim of decreasing pain and improving tendon function.
ATI is a three stage process.
Biopsy:
Harvesting of healthy tendon cells
Tissue culture (amplification):
Healthy tendon cells cultured in Orthocell laboratory
Implantation:
Injection of healthy cultured tenocytes into the damaged tendon under ultrasound guidance
ATI Process Explained.
1. BIOPSY:
Initially a small specimen of cells is harvested from a normal tendon. The patellar tendon is typically used as it easily accessible and of decent size. An ultrasound examination takes place first in order to confirm that the tendon is normal to guarantee the quality of the specimen. Once this is confirmed, local anaesthetic is injected into the skin, which is followed by two biopsy passes to provide an adequate specimen.
2. TISSUE CULTURE:
The tissue is then cultured over a period of several weeks in the Orthocell laboratory, to yield five million healthy tendon cells (tenocytes).
3. IMPLANTATION:
These cells are delivered to Melbourne Radiology Clinic, with the patient recalled for a final injection into the torn tendon.
Both procedures are simple and quick, taking less than 30 minutes each and are well tolerated. Decreased pain (figure 3) and improved function (figure 4) then occur. As the cells are derived directly from the patient, there is no risk of rejection or infectious disease transmission.
Autologous Tenocyte Implantation is available to everyone, from the professional Olympic athlete to patients with recalcitrant tendon pain.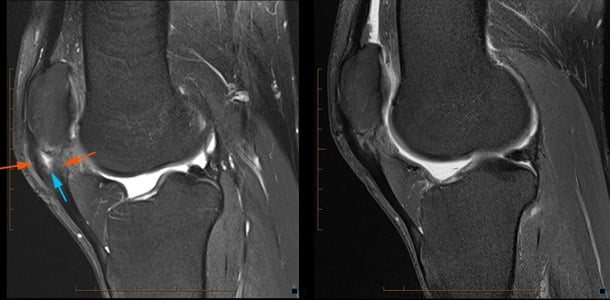 Pre (A) and post (B) ATI injection of a patient with severe patellar tendinosis ("jumper's knee").
Case Example:
Patient with severe patellar tendinosis (jumper's knee).
The pre procedural MRI demonstrates marked thickening of the patellar tendon (orange arrows) with a large deep surface tear (blue arrow), surrounding soft tissue and bone marrow oedema. Following ATI, the tendon is of more uniform thickness and the tear has decreased in size, as has the surrounding soft tissue reaction.
The improved MRI appearances have been accompanied with improved functional outcome, with the patient reporting markedly decreased pain and successful return to sporting activities.
Further Information.
Referring doctors are  welcome to discuss with our radiologists the imaging and interventional radiology needs of their patients and whether Autologous Tenocyte Implantation (Ortho-ATI®) is suitable for their patient's medical condition.