CT Scan Knee Pain
There are many different tools available to help medical professionals diagnose and treat a wide range of conditions. Historically, x-ray assessment has been the traditional initial assessment of knee pain, with a CT scan essentially being a three dimensional version of x-ray imaging and therefore reserved for instances where more detailed imaging assessment is required.
Knee pain CT scans are painless, accurate and non-invasive.
Preparation
If you require a CT Scan for knee injuries, you will not have any preparation to do for your appointment.
You will be asked to lie back on a flat bed that will pass into the scanner, which is a ring that rotates around your knee as it passes through it. You must stay still and breathe normally. The sensation of claustrophobia is minimise as the scanner never surrounds your whole body at once and you will be able to see both ends of it.
The entire procedure usually only lasts for several minutes on the scan table.
A radiologist, a medical doctor specialised in interpreting medical images for the purposes of providing a diagnosis, will then review the images and provide a formal written report.
Why Have a CT Scan for Knee Injuries?
The following are some knee problems that can be diagnosed with a CT scan;
arthritis
torn ligaments or tendons utilising CT arthrography if you're unable to undergo an MRI examination
fractured bone
tumours
infection
pre operative knee replacement assessment for the purposes of obtaining a patient specific implant (PSI)
Request Your Knee Pain CT Scan Appointment Today
If you require any radiological examination such as X-ray for knee pain, MRI for ankle injury, MRI for knee injury and/or procedure, then contact the team at Melbourne Radiology Clinic. We accept referrals from all over Melbourne – any written referral can be used, even if it is for another radiology provider. To book a CT scan for knee pain, call our reception staff on (03) 9667 1667. Alternatively, email to info@melbourneradiology.com.au, including your referral, if you have been provided with this, or you can use our online booking form to get in contact and we can call you back to book you an appointment.
Case examples:
1. Anterior cruciate ligament (ACL) tear
MRI of the knee demonstrates a full thickness tear of the anterior cruciate ligament (ACL). The ligament is typically taught, unlike this case (arrows).
2. Meniscus injury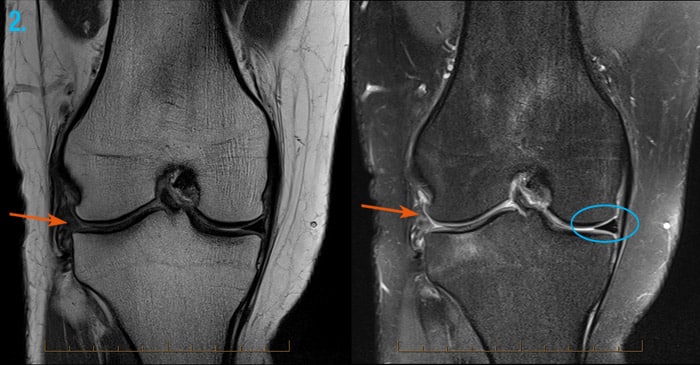 3. Use of CT to identify bone lesions
CT can be used to assess focal bone lesions, such as in this case where two cortical desmoids (arrows) are noted. Cortical desmoids are an incidental finding and require no further follow up.