Sports Imaging
MRI Scan for Knee Injury
A knee injury can be painful and potentially debilitating, so frequently further clarification on the severity and extent of injury is required with a radiological examination. This is particularly the case in athletes who wish to generally wish to recover and return to their sporting pursuits as soon as possible.
Why An MRI Scan For Knee Injuries?
Knee injuries are often the result of traumatic damage, manifesting as tears, to the soft tissue structures such as the ligaments, muscles, tendons and cartilage. A knee MRI scan is the gold standard for the assessment of these structures.
What Happens During An MRI Scan Of The Knee?
Here at Melbourne Radiology Clinic, we perform knee MRI scans and examinations for the assessment of many different injuries, including sports injuries. An MRI scan for knee injuries is very common and an effective and rapid means of obtaining a diagnosis.
No preparation is required for a knee MRI scan. When you arrive for your appointment, you will be asked to change into a disposable gown and remove any metallic devices. You will then be asked to lie down on the MRI scan table and lie throughout the scanning process in order to obtain the best image quality. The scan will take approximately 20 minutes. All you need to do is lie still as the scan is being performed. We will provide you with noise cancelling headphones so you can distract yourself from the process, as well as music being played through these headphones. Our radiographer will keep you informed throughout the scanning process as to the progress of the scan as well as to keep in communication with yourself to ensure that you are comfortable.
After your scan, one of our expert radiologists will review the images and provide a formal written report with the diagnosis/diagnoses to your doctor. This report will be delivered within 24 hours or instantly, if requested by your referring health care provider.
Book An MRI Scan For Your Knee Injury
If you are suffering from a knee injury or knee pain and require an MRI scan, then you can book an appointment at Melbourne Radiology Clinic by calling us at the clinic or email to info@melbourneradiology.com.au, including your referral, if you have been provided with this. Other than MRI scan, We also offer other examinations including knee pain CT scan, X-ray for knee pain & many more healthcare imaging services in Melbourne.
Case examples:
1. Anterior cruciate ligament (ACL) tear
MRI of the knee demonstrates a full thickness tear of the anterior cruciate ligament (ACL). The ligament is typically taught, unlike this case (arrows).
2. Meniscus injury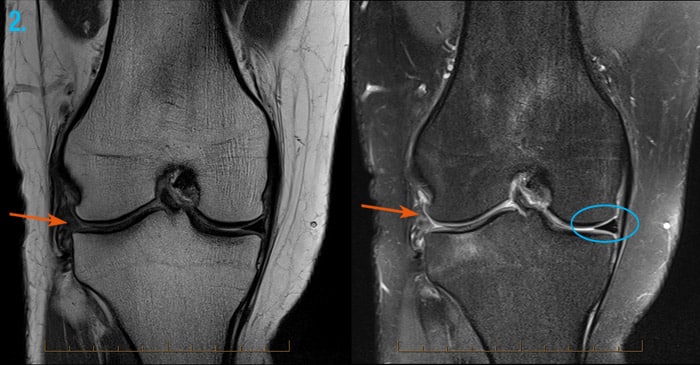 3. Use of CT to identify bone lesions
CT can be used to assess focal bone lesions, such as in this case where two cortical desmoids (arrows) are noted. Cortical desmoids are an incidental finding and require no further follow up.